3 TIPS FOR CHANGING YOUR KID'S EARRINGS FOR THE FIRST TIME
Hands up! How many of your little ones had their ears pierced over the summer holidays?
It's a rite of passage that many tweens will have experienced thanks to the big six weeks holiday buying them some extra healing time before the start of another school year. But as we hurtle towards half term (seriously, how did that happen!?) it might be time to start thinking about swapping those starter earrings for something else. But how exactly do you change a child's earrings for the first time? And what do you need to know before getting started? Let us explain. 
1) Check The Piercing Has Actually Healed So You Don't Change Earrings Too Early
The biggest piece of advice we can give you when changing your child's earrings for the first time is to make absolutely sure that the piercing has healed. Taking out the earring before this can lead to a whole number of complications you definitely want to avoid.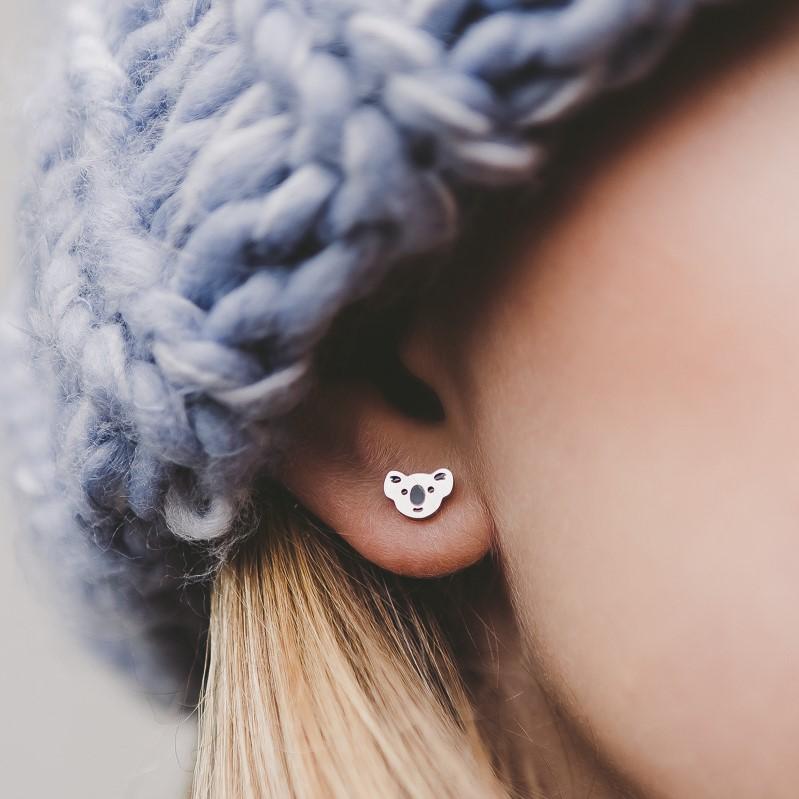 When Should I Change My Child's Earrings?
As a general rule, you need to wait at least 6 weeks before you consider taking out your kids starter earrings. If, however, you child is experiencing a lot of pain or showing signs of an infection, you should consider removing the earrings straight away and see a doctor if things don't improve.
Assuming that everything has healed as it should though, six weeks is the average amount of time that you need to wait until you can change out your child's earrings for the first time. But remember. Everyone is different and some people's ears take quite a bit longer to fully heal. So make sure you check before you take them out. 
How To Tell If Your Child's Ear Has Healed Properly? 
Fully healed piercings will have no sign of redness or swelling. Any pain should have completely subsided as should any natural discharge which can appear during the healing process. You should also be able to gently move the earring without causing any discomfort to your child. Give them the best chance of their piercing healing quickly by cleaning it regularly with water and mild, fragrance-free soap. 
What Happens If You Take Starter Earrings Out Too Early?
Taking out an earring before your child's ear has fully healed can lead to a nasty infection, permanent swelling and in some cases, the body rejecting any new piece of jewellery you try to put in. In some cases, an unhealed ear can effectively "swallow" new jewellery which will then need removing by a professional. 
If you remove earrings too early but don't put in new jewellery, the earlobe can simply close back up, wasting the time and money you put into getting your child's ears pierced in the first place.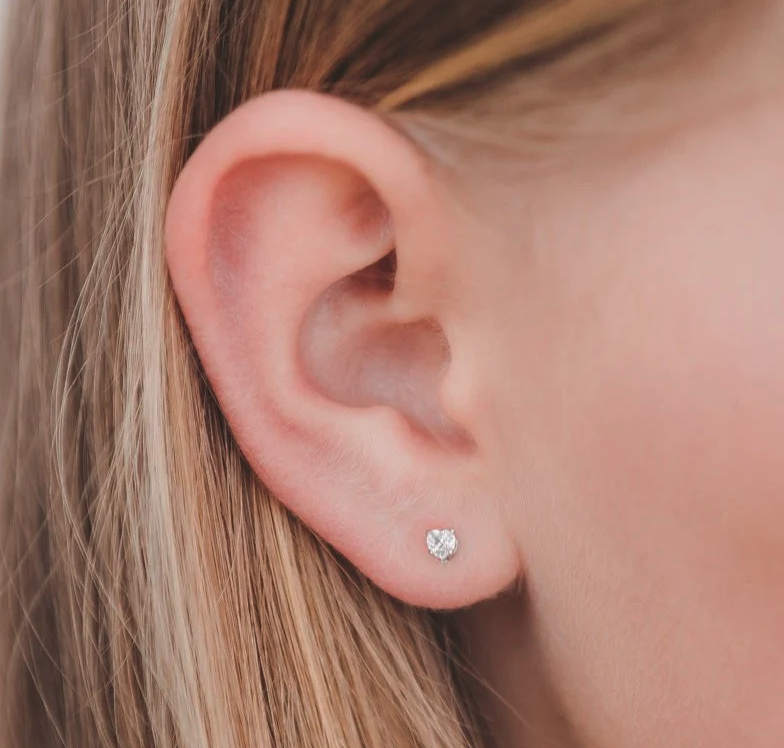 2) Take Your Time and Take Care 
So you've checked your little one's piercing and everything is looking like it's healed nicely. Now what? You still run the danger of causing a few tears if you aren't ultra careful when changing your kids earrings for the first time. Follow these steps though and it will be a doddle. 
How Do You Remove a Child's First Earring?
Step 1: Reassure Your Child and Explain the Process  
Very little ones might be confused or scared when it's time to change their earrings. Make sure you reinforce the message that there is nothing to fear and explain that keeping calm and still will help things go a lot more smoothly. Let the excitement of wearing a brand-new pair of pretty earrings outweigh any anxiety they might have. 
Step 2: Wash Your Hands and Clean Their Ears 
Wash your hands thoroughly with mild soap and water before you touch your child's ears. Tie your little one's hair back if their hair is long and then use a clean cloth and fresh soap and water to gently wipe around their piercing. This will make sure the ear is free of any dirt or dead skin cell buildup that might otherwise get into the piercing if it's not 100% healed. 
Step 3: Remove or Open The Earring Back in The Correct Way. 
Chances are your child's first earring is a classic stud earring with a push back closing (also known as a butterfly back). To remove these types of earrings, gently pinch the back and apply gentle pressure until it slides all the way along and off the post. Then gently pull the front of the earring forward so the post glides through and free of the ear.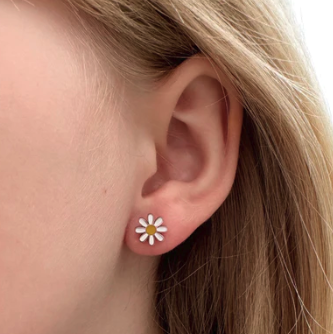 How Do You Remove Safety Back Earrings? 
In some cases, your kids first earrings may have a safety back instead. These feature a locking design which help hold the earrings securely in place. But this extra security does mean you need to be slightly more hands on when taking them out.
With one hand, hold the earring post between your index finger and your thumb.

Then, using your other hand, either pull off the backing or unscrew it depending on the design.

LOX secure earring backs are some of the easiest safety back earrings to remove as you simply need to gently squeeze the metal clip and guide it as it slides off easily. 
What To Do If Your Child's Earring Is Stuck. 
On rare occasions, your child's earring may seem like it's stuck. This could be for a variety of reasons. In some cases, it can be caused by the shape of the lobe. If your child has thick or pronounced lobes, they can sometimes get lodged in the earrings.
Another reason could be that a build-up of skin cells, wax or other debris is clogging the piercing hole or has become attached to the earring itself. In both of these cases it may be possible to free the earring by pouring some warm (but not hot) water over the hole.
If this isn't enough, you can also try delicately wiping a very small amount of baby oil onto the piercing hole using a cotton bud. If that still doesn't work, you might want to consider visiting a professional who will have specialist tools to remove problem jewellery. It's worth noting that this is exceptionally rare and you'll be able to remove the majority of stud earrings first time with no fuss.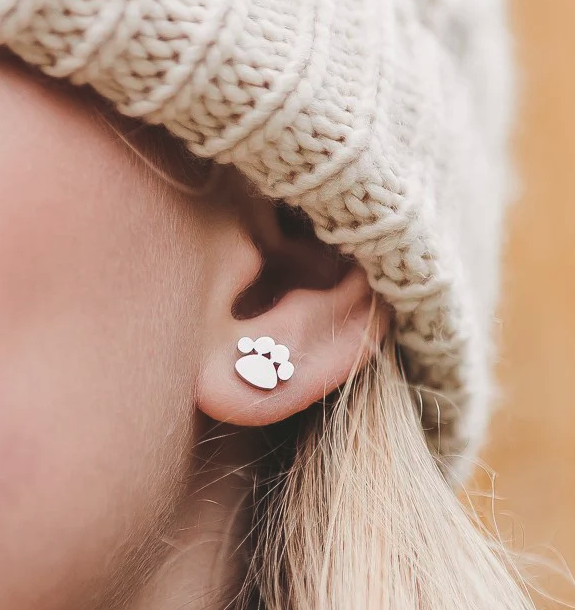 3) Choose New Earrings That Won't Cause Your Child Discomfort 
So you've done it! The earrings are out and your little one can't wait to show off a brand new pair. But what do you still need to consider when it comes to high quality and risk free kids earrings.
Here's our top tips. 
What are the Best Earrings for Kids? 
Even after their ears have healed, you should avoid buying cheap kids costume jewellery as it may contain nickel or other irritants that your child's young skin could react to.
Choose a hypoallergenic option, like stainless steel, that will be gentle on delicate ears instead. Not only is stainless steel perfect for kids ears, it comes with the added benefit of being easy on the bank balance.
There's no need to spend big money on silver earrings or gold earrings just to watch them tarnish over time.
Not when you can shop our collection of high quality, and just as stunning, stainless steel jewellery that will stay looking radiant as your little one grows.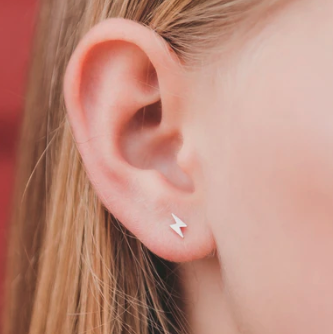 Can Kids Wear Drop Earrings?
It's best to avoid dangly children's earrings even when their piercing has healed. The reasons for this are twofold. Firstly, the weight of drop earrings can put too much pressure on your little one's lobes and can cause them to become misshapen. Secondly, they're very impractical. Don't run the risk of them falling out, or worse still, tearing your child's piercing when you can opt for fuss free stainless steel stud earrings instead. 
If you want to achieve the same drop look without the risks, huggie hoops are a great option for kids. We have a fantastic range of both mini gold huggie hoop earrings and silver huggie hoops that are perfect for little ears.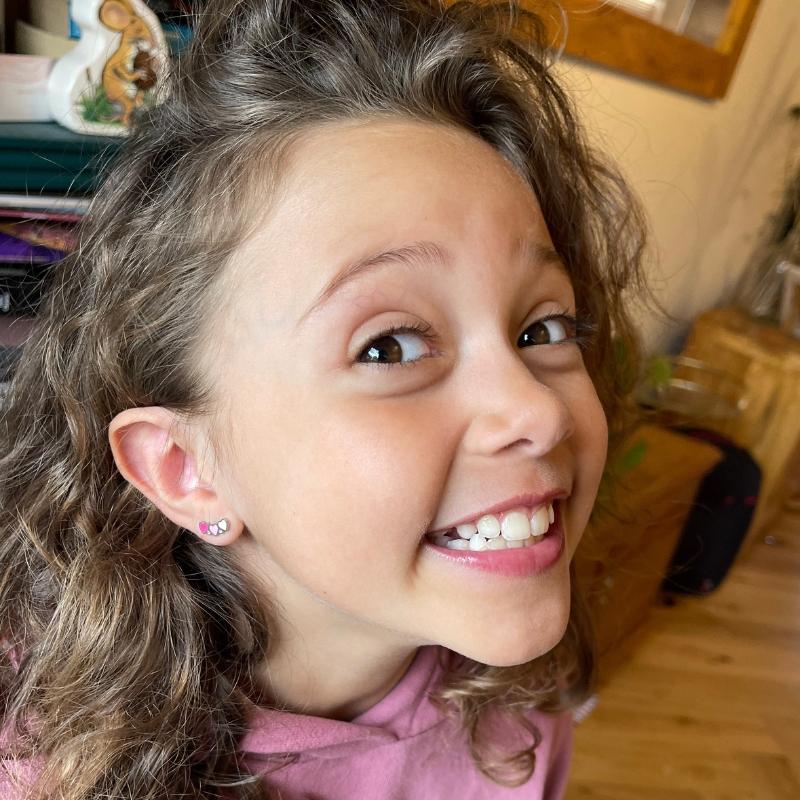 Where to Buy Children's Earrings?
Here at Solace, we know kids stud earrings should be as fun and unique as your child is. Which is why our range is packed with quirky and colourful stainless steel studs that they can mix and match to your hearts content now that their piercings have healed. 
Geometric designs such as our Mini Star or Gerbera Daisy stud earrings are a great option for school. As are our regular Love Heart and Mini Open Heart shaped studs, both of which are available as silver stud earrings or gold stud earrings. For a full range of school-friendly studs for kids, you can take a look here.
But when it comes to letting their personalities shine through, you can't top our funky range of novelty earrings, such as the colourful studs for kids.
For nature buffs and animal lovers, we've got everything from bee, butterfly or cute koala studs. Then there's our colourful unicorn studs for little fairytale lovers. Or help them embrace spooky season with our range of Halloween stud earrings.  
Whatever style they choose, you can rest assured that all our stainless steel studs can be kept in for as long as they want. 
BEST SELLING KID'S EARRINGS
We have a 100% happiness guarantee, in the unlikely event they have a reaction, or simply don't like the earrings after trying on, you can send back for a refund.