Do Fidget Rings Help With Anxiety?
Remember when fidget spinners were a thing back in 2017?
They became so popular as a toy that people all but forgot about their intended purpose; to help people concentrate, settle their nerves or relieve anxiety. Their popularity was short lived, partly due to their conspicuous size and the frequent misrepresentation of them being only for children. But just because fidget spinners fell out of vogue doesn't mean the benefits of keeping our hands busy went away.
Enter the fidget ring. A stylish solution that discreetly helps the wearer stay calm and avoid bad habits like biting their nails or twirling their hair. Read our guide to find out more about how fidget rings work, what they can help with and if one could be right for you.
What Are Fidget Rings?
A fidget ring, or an anxiety ring as they're also known, can come in many different shapes and sizes. But they all have one thing in common; the fact that they're designed to be worn on your finger with the purpose of focusing your mind and reducing stress.
They can be made out of pretty much any material, such as titanium or stainless steel, and will have a moveable element as part of their design. This could again be anything from gemstones to beads or even a spinning ring.
Ours, for example, features moveable metal beads. The beauty of fidget rings is that you can choose one that suits your taste and style, the best being the ones that compliment your wardrobe whilst providing a beneficial function.
How Do Fidget Rings Work?
As all fidget rings are different, how they work can differ. But in most cases there will be a something to roll, flick or spin with your fingers.
By keeping your hands busy in this way, you're giving your mind something different to think about other than the anxiety or nerves that you might be feeling. The calming distraction of the continuous, rhythmic movement is known to help wearers cope in stressful situations.
It can also help those who are prone to nail biting or skin picking as it shifts the focus away from the habit and onto the ring.
Do Fidget Rings Help With Anxiety?
To really answer this question, we must first look at how stress works as a physical thing that our bodies experience.
When you're feeling stressed, nervous or anxious, your body goes into a hypersensitive mode and releases stress chemicals. This leads to overactivity as your body struggles to cope with the additional hormones. This is more commonly known as the "fight or flight" response.
This overactivity can present itself in different ways – some common examples include biting your nails, wobbling your knee or clicking your pen. In more extreme cases, it can present itself as a panic attack. This is where an anxiety fidget ring can help.
By giving your brain something else to think about other than the symptoms of anxiety, you're helping to take your mind off the stressful situation. As such, there are many user testimonials supporting the fact that anxiety fidget rings have helped bring calm and alleviated symptoms during episodes of anxiety.
It should be noted that fidget rings do not, however, treat the root causes of stress and anxiety. We would always suggest that you seek professional medical advice for this. But fidget rings can be a great addition to your daily coping strategies.
Do Fidget Rings Help With Picking?
Just as fidget rings help people release nervous energy, they can also help focus the mind away from repetitive habits such as picking at your skin and nail cuticles or pulling at your hair. The theory works much in the same way as it does with stress; if your mind is busy thinking about playing with the ring, it can't think about the habit you're trying to break.
As most habits are subconscious, it can be a little tricky at first. But you can train your brain by switching to playing with the fidget ring every time you catch yourself picking at something you shouldn't be. Eventually, your go-to-response will be to fidget with the ring in the first place instead.
Do Fidget Rings Improve Concentration?
Anyone who likes to doodle when they're in a meeting will know that movement can help the brain focus more on what's been said. A fidget ring works much in the same way as it requires just the right amount of attention to stop the mind from wandering off completely but not too much that it becomes a distraction from what's going on itself. It's a sort of mental break through a repetitive movement that can keep you grounded and on task. This makes them great for both adults who work in offices and children listening in the classroom at school.
Where Can I Buy Fidget Rings UK?
Thanks to TikTok and Instagram, fidget rings have seen a huge spike in popularity and are becoming more readily available. But as with all jewellery, they can vary greatly in quality depending on where you buy them from. We'd recommend avoiding anything made from materials that contain high levels of nickel as this can cause irritation, or copper that will turn your finger green – especially as you'll most likely want to wear you fidget ring every day.
Avoid that problem with our 316L Stainless Steel fidget ring that's both stylish and practical. Available as both a silver fidget ring and gold fidget ring, this piece features moveable metal beads that you can play with using your fingers to keep focused or calm as and when you need it.
The fact our ring is waterproof, lightweight and tarnish free means you'll never have to take it off so it will always be there when you need it the most. It also comes in multiple sizes and looks great either on its own or combined with your other gold rings or silver rings to create an on-trend stacking look.
SHOP OUR FIDGET RING
We have a 100% happiness guarantee, in the unlikely event you have a reaction, or simply don't like the earrings after trying on you can send back for a refund.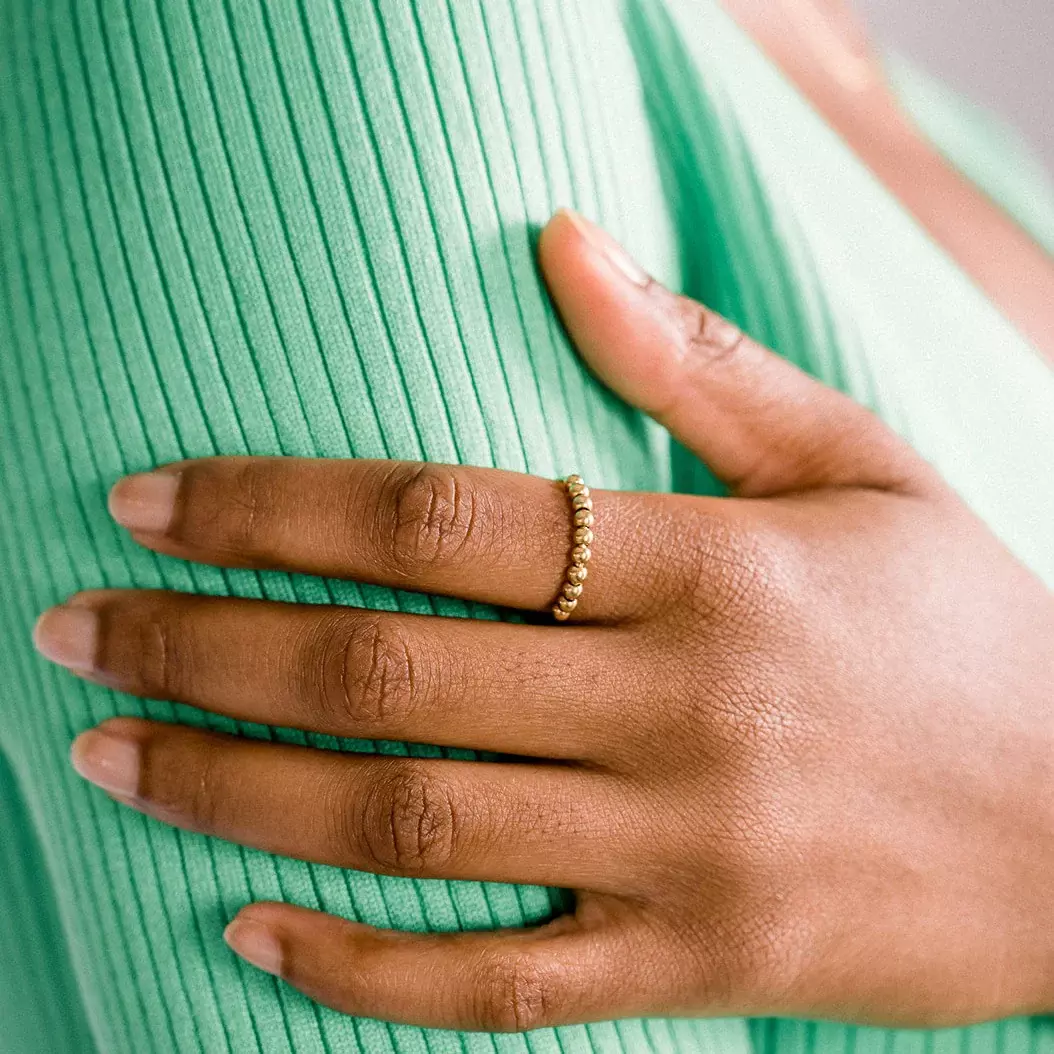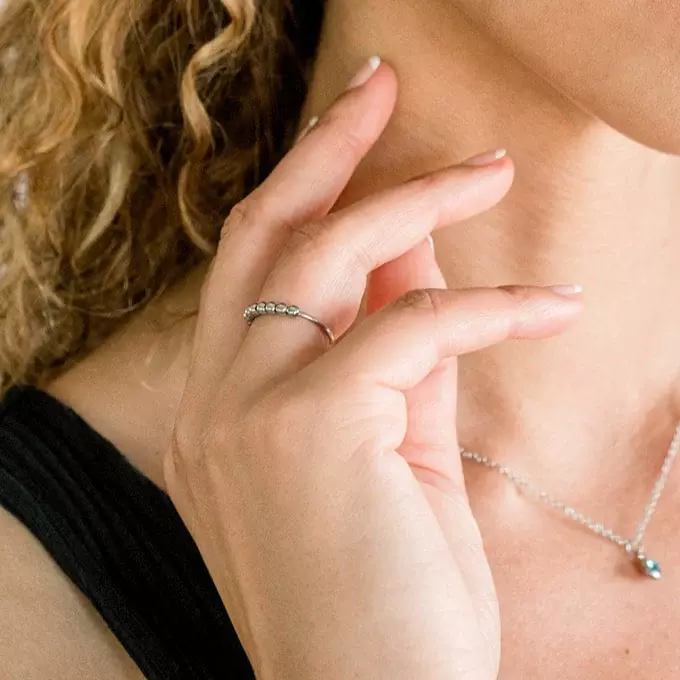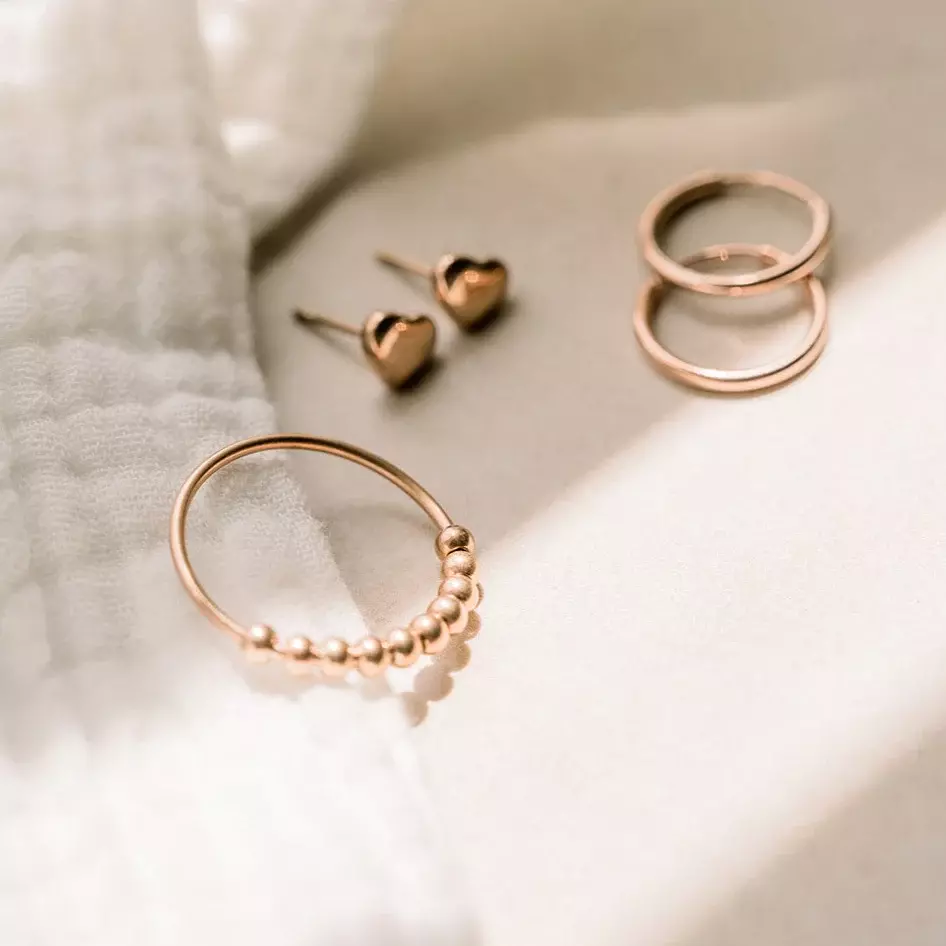 Hypoallergenic Fidget Ring
Made to last, all of our jewellery is:
Skin safe or your money back

Tarnish free

Water & sweat proof

So lightweight you'll forget it's on

Covered by our 100% lifetime guarantee



Made to last, all of our jewellery is:
Skin safe or your money back

Tarnish free

Water & sweat proof

So lightweight you'll forget it's on

Covered by our 100% lifetime guarantee